The Introduction to BIO TECH PROBIOTIC WSP (Water Soluble Powder)

The Ultimate Climate - Benign Cleaning Water Soluble Powder
Green Worx Cleaning Solutions introduces a new game changer in green cleaning essentials
Are you still cleaning with chemical-based liquid detergents?
Are you looking for the ultimate environmentally friendly probiotic cleaning solution?
Start using our ultimate Cleaner | Greener | Smarter | Healthier Bio Tech Probio WSP (water-soluble powder).
Bio Tech Probiotic WSP 10 are available in HACCP colour-coded 10-gram sachets.
Powder Probiotics instead of liquid chemical detergents
Our products are easy to use, as demonstrated in this simple 4-step process:

Add one-liter clean water to your trigger spray bottle.

Open one sachet and pour the effervescent powder into a bottle with clean water allow to fizz for a minute

Open one sachet and pour the effervescent powder into a bottle with clean water allow to fizz for a minute

Use – You are now ready to go. This ensures there is minimal risk of the concentrate encountering the user's skin or eyes. No manual handling is involved when using or moving the products before water is added. The dosing is always correct which means that the active ingredients in the sachets will work at the optimum level and costs are fully controlled at the cleaning point.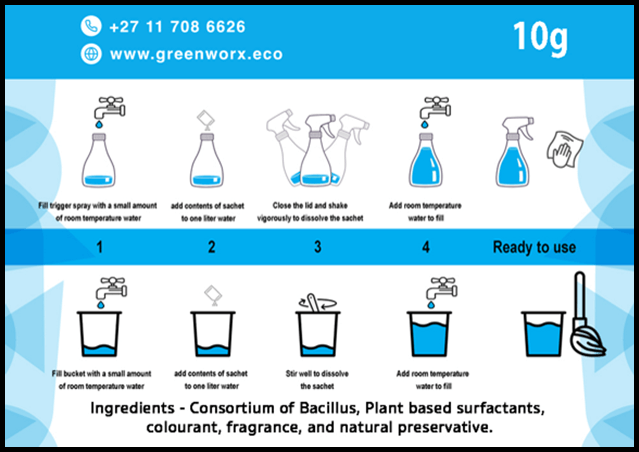 10 ENVIRONMENTAL BENEFITS
Environmental Benefits

At Green Worx Cleaning Solutions, consideration for the environment is at the forefront of all our processes and applications. We strive to reduce the amount of single-use plastic within the cleaning industry and have as little negative impact as possible on the environment. Our mission is to become the leading producer of effective and value-for-money cleaning in-use concentrate, packed in recyclable sachets made by adopting the highest possible ethical standards.
Carbon Footprint Reduction
Our environmental policy does not stop at plastic reduction. We also contribute to carbon dioxide reduction in terms of our transportation, packaging, and manufacturing methods and practices. Our products do not involve the transportation of water, this can be added as and when the product is needed. As a result of this, fewer natural resources are used to facilitate product transit because the weight and volume of products are so low.
The Statistics
Dosing bottles are wasteful; our system uses LESS plastic per cleaner per year compared to other dosing systems. Ready-to-use pre-packed products are wasteful, our system uses LESS plastic per cleaner per year than ready-to-use pre-packed products.
Zero Water Transportation
Natural resources are precious, and we seek to always minimise our use of them in the design and manufacture of our products. With Green Worx Cleaning Solutions systems, zero water is transported, thus the volume and weight of products in transit are low. That might seem to be a small benefit, but you'd be amazed just how much this reduces emissions through fewer transport miles and greater capacity within the transport vehicles and the cost of transport.
We want clean air as well as clean oceans.

1000-liter liquid ready-to-use cleaning product or can be replaced with 10 kg of product in 1000 sachets of 10-gram cleaning powder. This will replace 40 x 25-liter plastic containers or 200 x 5-liter containers which will go to waste.
Just add water... don't transport water
Be the Leader
Innovation is at the heart of the Green Worx Cleaning Solutions Bio Tech Probiotic Water-Soluble Sachet product range, not only do our products reduce waste, a pressing issue today, but they also provide a positive change, reducing costs.
Our in-house design and packaging team have developed our product range to follow the Institute of Cleaning Science colour coding system – HACCP Colour Code.
The pictorial guides reinforce the 4-step process and colour coding to ensure correct use. These also assist any users who have language or learning challenges. The dissolving powder colours the water making it immediately obvious where the trigger spray bottle is meant to be used and avoids potential cross-contamination.
Cost-Saving Benefits – No Water Transportation
In addition to the enormous positive environmental impact that zero water transportation has, there are also benefits in terms of costs and savings. The weight of the load is consequently much lighter due to there being no liquid to transport to customers; meaning that the cost of delivering our products to you and to your customers and operational sites is considerably reduced.
Our systems are cost-effective solutions for both small clients and large users.
This is because we can implement concentrate dosages for larger users, as well as provide the sachets for clients at the other end of the spectrum. In other words, Green Worx products are scalable from one cleaner to 1000+. As a result of this dosing certainty, there is no worry about using too much of the product, in turn, this leads to cost certainty as no product is being wasted.
Not only that, but Green Worx products have a Two-year shelf life (if kept cool and dry, of course!) There is no rush to use the products within a short time frame and they take up minimal shelf space as no water is added until usage.
Request a free test and demo just for you
Cleaning with powder probiotics – the eco-friendly cleaning method of the future!
Would you like an obligation-free trial of the Bio Tech Probiotic WSP cleaners?
Order your free trial pack now: and arrange a free no obligation demonstration.
Email us at – info@greenworx.eco Or Phone us at – 011 708 6626.
P.S.: It pays to be quick on the uptake – the free trial packs get snapped up quickly.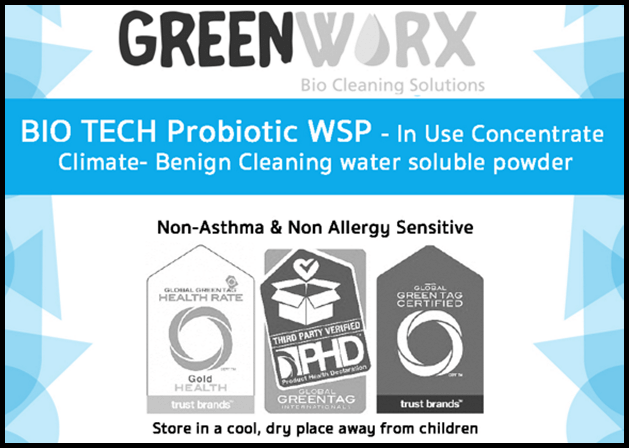 Bio Tech Probio WSP Yellow
Bio Tech Probio Green Enzymatic WSP
All Green Worx products are Global GreenTag and PHD certified – this means our products are the most credible eco-friendly products together with a toxicological health certification – our products are certified non-asthma and non-allergy sensitive.